| | |
| --- | --- |
| | This page talks about new things. As such, there may be inaccurate or missing information. What you see here may change over time. |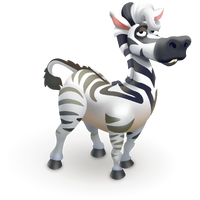 Zebras are sanctuary animals. They are unlocked at reputation level 3.
Like all other sanctuary animals, players can only have two of them.
---
Appearance
Zebras have two different appearances: cowlick and mohawk.
---
Unlocking zebras
Unlike other animals, zebras cannot be bought. Players must unlock them by finding puzzle pieces (which are collected in a log book). 36 pieces are required for each animal.
Once players have obtained the first zebra, the puzzle for the second zebra is unlocked.
---
Placing zebras
Players must pick up a zebra house to be able to place the animal in the sanctuary. The house is free and can be obtained from the Shop. Shop

.
When the second puzzle is completed, players are asked to upgrade the house, which does not cost anything. When the house is big enough to welcome a new animal, it is delivered in a crate, "airlifted" into the sanctuary by balloons. Zebra foals are locked until both adults are unlocked.
---
Decorations
Each zebra unlocks some decorations in the shop as specified below:
With each animal players are given the first pair of decorations for free. They are unlocked in the Shop when you get the first animal.
---
Community content is available under
CC-BY-SA
unless otherwise noted.