The town is a game feature which gives players a new area to play in and the opportunity to gain coins, experience points, and reputation points by filling town visitors' orders.
It can be unlocked at experience level 34 by repairing the train station located on the farm.
From reputation level 3 and up, it lets players interact with the sanctuary.
---
Going to the town
Repairing the farm's train station costs 39,000 coins, takes three days (or 97 diamonds) and awards 39 experience points. After taking the handcar to go to the town players must repair the town's train station and the Town Hall. It is free to repair these.
---
Town buildings
There are several buildings in the town (see the map below):
---
Town characters
Main article: Hay Day
Mr. Wicker, a talking scarecrow, guides players through the first steps when they unlock the town and later when they unlock the sanctuary.
Main article: Town Visitors
Ten different non-player characters come to visit towns and request orders in the different service buildings.
---
Decorations
Main article: Decorations
Many items can be placed in the town to decorate it, and create paths and fences.
---
Expansion
Main article: Expansion
Players can expand the town using expansion supplies.
---
Layout Edit Mode
Main article: Edit Mode
From experience level 34 onwards, players can use the Layout Edit Mode to edit the current layout of their town and to create new ones.
---
Tutorial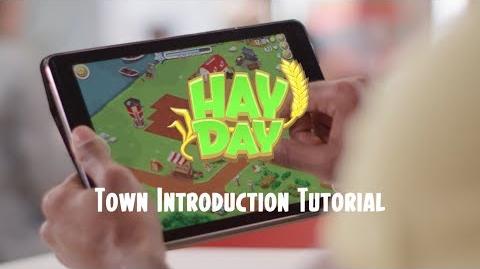 ---
Strategy tips
There is much more room in the town than on the farm so expanding the land there is not as critical.
---