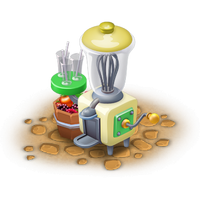 The Smoothie Mixer is a production building unlocked at experience level 64. It is used to make berry smoothies, green smoothies, yogurt smoothies, mixed smoothies, cocoa smoothies and plum smoothies.
---
Building
It costs 220,000 coin

and takes 3 days or 80 dia

to build the Smoothie Mixer. It gives players 39 xp

when completed.
---
Products
---
Upgrading
Main article: Production Buildings
The Smoothie Mixer originally has two slots available. Unlocking the third slot costs 6 diamonds. Players can unlock 7 new slots in total, each new one costing 3 more dia

than the previous one. Alternatively, they can spend a total of 105 dia

to completely upgrade their machine.
---
Mastering
A total of 1,512 hours of production is required to master the Smoothie Mixer:
★
72 hrs
★★
288 hrs
★★★
1,152 hrs
+10%

coin

+5%

xp

15% faster
---
Strategy tips
---