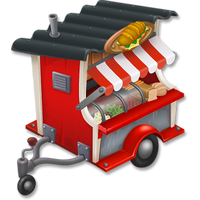 The Sandwich Bar is a production building unlocked at experience level 61.
It is used to make bacon toast, egg sandwiches, goat cheese toasts, honey toast, peanut butter & jelly sandwich, onion melts and veggie bagels.
---
Building
It costs 180,000 coin

and takes 2 days and 4 hours (or 67 dia

) to build the Sandwich Bar. It gives players 34 xp

when completed.
---
Products
---
Upgrading
Main article: Production Buildings
The Sandwich Bar originally has two slots available. Unlocking the third slot costs 6 diamonds. Players can unlock 7 new slots in total, each new one costing 3 more dia

than the previous one. Alternatively, they can spend a total of 105 dia

to completely upgrade their machine.
---
Mastering
A total of 1,512 hours of production is required to master the Sandwich Bar:
★
72 hrs
★★
288 hrs
★★★
1,152 hrs
+10%

coin

+5%

xp

15% faster
---
Strategy tips
Every product, except onion melt, requires bread, so make sure you have a large quantity. Buying from the Daily Dirt is possible, but you should not rely on it.
Most sandwiches and toast require products from other machines: olive oil, mayonnaise, honey or raspberry jam. You should time your production in consequence.
---
Community content is available under
CC-BY-SA
unless otherwise noted.