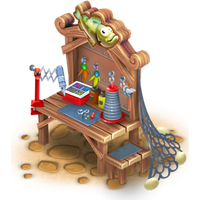 The Lure Workbench is a production building unlocked at experience level 27.
It does not need to be repaired or bought. It is given for free. It cannot be moved or rotated, though.
It is used to make various types lures: simple ones with hooks and worms as bait, called red lures, or artificial flies in four different colors --green, blue, purple and gold.
It can be found in the Fishing Lake area.
---
Appearance
The Lure Workbench looks like a decorated wooden workbench with a side table on its right. The bench has hooks, feathers, boxes and cans, a roll of wire and a tool to make the lures.
The mastered version gets a golden tool, as well as a star at its top.
---
Products
Red lure
Green lure
Blue lure
Lvl 27
Lvl 27
Lvl 27
1 h 30 min
★★★ 1 h 16 min
1 h 15 min
★★★ 1 h 3 min
60 min
★★★ 51 min
1

xp

2

xp

3

xp

Purple lure
Gold lure
Lvl 27
Lvl 27
45 min
★★★ 38 min
30 min
★★★ 25 min
4

xp

5

xp
Products from the Lure Workbench cannot be bought or sold. They are stored in the Tackle Box.
---
Upgrading
Main article: Production Buildings
The Lure Workbench originally has two slots available. Unlocking more slots costs diamonds:
3rd slot: 10 diamonds
4th slot: 20 diamonds
5th slot: 45 diamonds
6th slot: 90 diamonds
7th slot: 130 diamonds
8th slot: 260 diamonds
9th slot: 415 diamonds
---
Mastering
A total of 6,840 hours of production is required to master the Lure Workbench:
★
120 hrs
★★
840 hrs
★★★
5,880 hrs
5% faster
10% faster
15% faster
---
Strategy tips
Making as many red lures as you can is the easiest way to master the maker. However, this still takes a very long time if you do not unlock more slots.
All but red lures require vouchers.
Another strategy would be to open as many slots in the Tackle Box as you can, store as many red lures as possible, you are always going to use them.
---
Community content is available under
CC-BY-SA
unless otherwise noted.