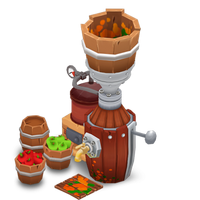 The Juice Press is a production building unlocked at experience level 26.
It is used to make apple juice, berry juice, carrot juice, cherry juice, grape juice, orange juice, tomato juice and watermelon juice.
---
Appearance
The Juice Press is a mixing machine with a silver-brimmed barrel on top and a dispenser with a golden tap. It has kegs filled with fruit as well as a pressure sensor next to it.
The mastered version gets a few golden part and a golden star on its brim.
---
Building
It costs 31,000 coin

and takes 1 day and 7 hours (or 54 dia

) to build the Juice Press. It gives players 27 xp

when completed.
---
Products
---
Upgrading
Main article: Production Buildings
The Juice Press originally has two slots available. Unlocking the third slot costs 6 diamonds. Players can unlock 7 new slots in total, each new one costing 3 more dia

than the previous one. Alternatively, they can spend a total of 105 dia

to completely upgrade their machine.
---
Mastering
A total of 1,550 hours of production is required to master the Juice Press:
★
50 hrs
★★
250 hrs
★★★
1,250 hrs
+10%

coin

+10%

xp

15% faster
---
Strategy tips
Every bottle of juice requires 2 fruit.
---
Community content is available under
CC-BY-SA
unless otherwise noted.