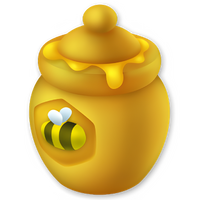 Honey is a product unlocked at experience level 39.
It is used to make many other products in the game.
Like all products, it is stored in the barn.
---
Making honey
Honey is made in the Honey Extractor.
To make honey, players need the following ingredient, in the specified quantities:

x2
It takes 20 minutes to make one jar, and 17 minutes in a fully mastered extractor. Each jar gives players 19 experience points.
---
Selling honey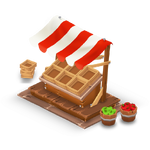 Honey can be bought or sold for a maximum price of 1,548

coin

for 10 jars.
Buying the ingredients required to make a jar costs 136

coin

.
---
Using honey
Honey is used to make the following products:
---
Strategy tips
Honey is a very profitable product if you have axes. It is more profitable than products made of blackberries or raspberries as nectar bushes are cheaper and honey is a quick product to make for a higher profit.
Boat orders never ask for honey.
---
Community content is available under
CC-BY-SA
unless otherwise noted.