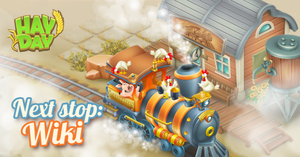 The Hay Day Wiki is a family-friendly wiki about Hay Day, a mobile farming simulator created by Supercell. The Hay Day Wiki documents everything about the game and serves as a game guide to any and all players of Hay Day.
---
About the wiki
The Hay Day Wiki is a fan-run game guide to Hay Day. We are not affiliated with nor moderated by Supercell. The site uses a coding language called wikitext, used by wikis such as Wikipedia, to allow editors to edit pages that they can create. The wiki is maintained and moderated by our administrators, as well as the Hay Day Wiki community.
---
You can navigate the wiki using green words (called links), such as those on this page. The navigation bar on the top of every page contains many links to useful pages, and the search box can also be used to find pages.
---
Editing the wiki
For first time editors, check out Help:Editing. For our own guidelines, see the Manual of Style. Contact staff or start a discussion for further help.
---
Other languages