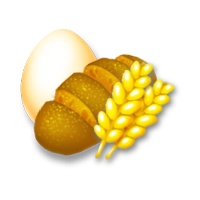 This page lists all goods available in the game (
animal goods
,
crops
and
products
) and provides detailed information on each of them.
Items are listed by level by default but the table is sortable.
Note: data for boat crates has been compiled by players and may be erroneous. The table only lists the lowest and highest amount requested per crate. The exact number depends on experience level and the number of crates which must be filled. For a more detailed list, see MindoPod's guide. Thanks to everyone who has contributed to this guide and to MindoPod.
Name
Level
Max. price
Time
XP
Needs
Source
Per boat crate
Wheat

1
3
2 min
1
Wheat

 (1)

Field
50-88
Egg

1
18
20 min
2
Chicken feed

 (1)

Chicken
16-23
Corn

2
7
5 min
1
Corn

 (1)

Field
50-87
Bread

2
21
5 min
★★★ 4 min
3
Wheat

 (3)

Bakery
14-23
Chicken feed

3
7
5 min
★★★ 4 min
1
Corn

 (1)
Wheat (2)

Feed Mill
N/A
Soybean

5
10
20 min
2
Soybean

 (1)

Field
24-34
Cow feed

6
14
10 min
★★★ 8 min
2
Corn

 (1)
Soybeans (2)

Feed Mill
N/A
Milk

6
32
1 h
3
Cow feed

 (1)

Cow
8-15
Cream

6
50
20 min
★★★ 17 min
6
Milk

 (1)

Dairy
8-12
Sugarcane

7
14
30 min
3
Sugarcane

 (1)

Field
14-29
Corn bread

7
72
30 min
★★★ 25 min
8
Corn

 (2)
Eggs (2)

Bakery
4-7
Brown sugar

7
32
20 min
★★★ 17 min
4
Sugarcane

 (1)

Sugar Mill
8-13
Popcorn

8
32
30 min
★★★ 25 min
4
Corn

 (2)

Popcorn Pot
10-19
Carrot

9
7
10 min
2
Carrot

 (1)

Field
30-41
Butter

9
82
30 min
★★★ 25 min
10
Milk

 (2)

Dairy
5-6
Pancake

9
108
30 min
★★★ 25 min
13
Brown sugar

 (1)
Eggs (3)

BBQ Grill
3-4
Pig feed

10
14
20 min
★★★ 17 min
2
Carrot

 (2)
Soybean (1)

Feed Mill
N/A
Bacon

10
50
4 h
5
Pig feed

 (1)

Pig
4-9
Cookie

10
104
1 h
★★★ 51 min
13
Brown sugar
Bakery
2-5
Bacon and eggs

11
201
1 h
★★★ 51 min
24
Bacon

 (2)
Eggs (4)

BBQ Grill
2-4
Cheese

12
122
1 h
★★★ 51 min
15
Milk

 (3)

Dairy
3-4
Indigo

13
25
2 h
5
Indigo

 (1)

Field
8-17
White sugar

13
50
40 min
★★★ 34 min
6
Sugarcanes

 (2)

Sugar Mill
5-13
Carrot pie

14
82
1 h
★★★ 51 min
10
Carrots
Pie Oven
4-7
Pumpkin

15
32
3 h
6
Pumpkin

 (1)

Field
9-15
Pumpkin pie

15
158
2 h
★★★ 1 h 42 min
19
Egg
Pie Oven
3-4
Apple

15
39
16 h
7
N/A
Apple tree
8-14
Wool

16
54
6 h
5
Sheep feed

 (1)

Sheep
5-8
Sheep feed

16
14
30 min
★★★ 25 min
3
Soybean

 (1)
Wheat (3)

Feed Mill
N/A
Buttered popcorn

16
126
1 h
★★★ 51 min
15
Butter

 (1)
Corn (2)

Popcorn Pot
2-5
Sweater

17
151
2 h
★★★ 1 h 42 min
18
Wool

 (2)

Loom
3
Cotton

18
28
2 h 30 min
6
Cotton

 (1)

Field
10-16
Bacon pie

18
219
3 h
★★★ 2 h 33 min
26
Bacon
Pie Oven
1-3
Syrup

18
90
1 h 30 min
★★★ 1 h 16 min
11
Sugarcanes

 (4)

Sugar Mill
3-4
Cotton fabric

18
108
30 min
★★★ 25 min
13
Cotton

 (3)

Loom
3-5
Hamburger

18
180
2 h
★★★ 1 h 42 min
22
Bacon

 (2)
Bread (2)

BBQ Grill
2-3
Raspberry muffin

19
140
45 min
★★★ 38 min
17
Egg

 (1)
Raspberries (2)
Wheat (2)

Bakery
2-4
Blue woolly hat

19
111
1 h
★★★ 51 min
13
Indigo

 (1)
Wool (1)

Loom
3-5
Raspberry

19
46
18 h
9
N/A
Raspberry bush
6-10
Cotton shirt

19
241
45 min
★★★ 38 min
29
Cotton fabrics

 (2)

Sewing Machine
2-3
Blue sweater

20
208
3 h
★★★ 2 h 33 min
22
Indigo

 (2)
Wool (2)

Loom
2-3
Carrot cake

21
165
1 h 30 min
★★★ 1 h 16 min
20
Brown sugar
Cake Oven
2-3
Wooly chaps

21
309
1 h 30 min
★★★ 1 h 16 min
37
Cotton fabric

 (1)
Wool (3)

Sewing Machine
1-2
Cherry

22
68
1 d 3 h
13
N/A
Cherry tree
5-7
Cream cake

23
219
3 h
★★★ 2 h 33 min
26
Cream

 (1)
White sugar (1)
Wheat (5)

Cake Oven
2-3
Red berry cake

23
255
1 h
★★★ 51 min
31
Cherries
Cake Oven
2-3
Cheesecake

24
284
4 h
★★★ 3 h 24 min
34
Cheese

 (1)
Cookie (1)

Cake Oven
2
Silver ore

24
18
Instant
5
Supplies
Mine
N/A
Gold ore

24
21
Instant
6
Supplies
Mine
N/A
Platinum ore

24
32
Instant
7
Supplies
Mine
N/A
Silver bar

24
147
8 h
★★★ 6 h 48 min
14
Silver ore

 (3)

Smelter
N/A
Chili pepper

25
36
4 h
4
Chili pepper

 (1)

Field
4-12
Chili popcorn

25
122
2 h
★★★ 1 h 42 min
15
Chili peppers

 (2)
Corn (2)

Popcorn Pot
3-4
Gold bar

25
180
12 h
★★★ 10 h 12 min
18
Gold ore

 (3)

Smelter
N/A
Platinum bar

25
205
16 h
★★★ 13 h 36 min
21
Platinum ore

 (3)

Smelter
N/A
Violet dress

25
327
2 h 15 min
★★★ 1 h 54 min
39
Cotton fabrics
Sewing Machine
1-2
Blackberry

26
82
1 d 8 h
16
N/A
Blackberry bush
4-6
Blackberry muffin

26
226
45 min
★★★ 38 min
27
Blackberries
Bakery
2-3
Carrot juice

26
46
30 min
★★★ 25 min
6
Carrots

 (3)

Juice Press
6-11
Fish fillet

27
54
Instant
or 20 h
4-20
Lure

 (1)
or Fishing net (1)
Fishing spot (any available)

Fish
6-9
Fish burger

27
226
2 h
★★★ 1 h 42 min
27
Bread

 (2)
Chili pepper (1)
Fish fillets (2)

BBQ Grill
2-3
Red lure

27
0
1 h 30 min
★★★ 1 h 16 min
1
None
Lure Workbench
N/A
Green lure

27
0
1 h 15 min
★★★ 1 h 3 min
2
Green voucher (1)
Lure Workbench
N/A
Blue lure

27
0
1 h
★★★ 51 min
3
Blue voucher (1)
Lure Workbench
N/A
Purple lure

27
0
45 min
★★★ 38 min
4
Purple voucher (1)
Lure Workbench
N/A
Gold lure

27
0
30 min
★★★ 25 min
5
Golden voucher (1)
Lure Workbench
N/A
Apple pie

28
270
2 h 30 min
★★★ 2 h 7 min
32
Apples
Pie Oven
1-2
Fish pie

28
226
2 h
★★★ 1 h 42 min
27
Egg

 (1)
Fish fillets (3)
Wheat (2)

Pie Oven
2-3
Apple juice

28
129
2 h
★★★ 1 h 42 min
15
Apples

 (2)

Juice Press
3-7
Vanilla ice cream

29
172
2 h
★★★ 1 h 42 min
20
Cream

 (1)
Milk (1)
White sugar (1)

Ice Cream Maker
2-3
Tomato

30
43
6 h
8
Tomato

 (1)

Field
6-12
Roasted tomatoes

30
118
1 h 30 min
★★★ 1 h 16 min
14
Tomatoes

 (2)

BBQ Grill
3-5
Cherry juice

30
216
2 h 30 min
★★★ 2 h 7 min
26
Cherries

 (2)

Juice Press
2-3
Fishing net

30
0
4 h
★★★ 3 h 24 min
7
None
Net Maker
N/A
Mystery net

30
0
3 h
★★★ 2 h 33 min
7
Diamonds

 (5)

Net Maker
N/A
Tomato juice

31
162
1 h 30 min
★★★ 1 h 16 min
19
Tomatoes

 (3)

Juice Press
2-3
Berry juice

31
205
3 h
★★★ 2 h 33 min
24
Blackberry

 (1)
Raspberry (1)

Juice Press
2-3
Goat feed

32
14
40 min
★★★ 34 min
3
Carrots
Feed Mill
N/A
Goat milk

32
64
8 h
6
Goat Feed

 (1)

Goat
5-7
Goat cheese

33
162
1 h 30 min
★★★ 1 h 16 min
19
Goat milk

 (2)

Dairy
2-5
Pizza

33
190
15 min
★★★ 12 min
23
Cheese
Bakery
2-4
Coal

33
10
Instant
3
Supplies
Mine
N/A
Refined coal

33
108
6 h
★★★ 5 h 6 min
13
Coal

 (3)

Smelter
N/A
Cherry popsicle

33
352
3 h
★★★ 2 h 33 min
42
Cherry juice

 (1)
Syrup (1)

Ice Cream Maker
1-2
Strawberry

34
50
8 h
10
Strawberry

 (1)

Field
3-9
Feta pie

34
223
1 h 30 min
★★★ 1 h 16 min
26
Egg

 (1)
Goat cheese (1)
Wheat (2)

Pie Oven
2-3
Iron ore

34
14
Instant
4
Supplies
Mine
N/A
Iron bar

34
129
7 h
★★★ 5 h 57 min
15
Iron ore

 (3)

Smelter
N/A
Strawberry ice cream

34
331
4 h
★★★ 3 h 24 min
40
Cream

 (1)
Milk (1)
Strawberries (3)
White sugar (1)

Ice Cream Maker
1-2
Wheat bundle

34 (Rep. 3)
50
1 h 30 min
★★★ 1 h 16 min
10
Wheat

 (75)

Feed Mill
N/A
Potato

35
36
3 h 40 min
7
Potato

 (1)

Field
6-13
Strawberry cake

35
316
3 h
★★★ 2 h 33 min
38
Cream

 (1)
Strawberries (2)
Wheat (3)
White sugar (1)

Cake Oven
1-2
Baked potato

35
298
35 min
★★★ 29 min
36
Cheese

 (1)
Chili pepper (1)
Cream (1)
Potatoes (2)

BBQ Grill
1-2
Apple jam

35
219
6 h
★★★ 5 h 6 min
26
Apples

 (3)

Jam Maker
2-4
Chocolate cake

36
320
2 h
★★★ 1 h 42 min
38
Brown sugar
Cake Oven
1-2
Casserole

36
367
2 h
★★★ 1 h 42 min
44
Bacon
Pie Oven
1-2
Cacao

36
86
1 d 10 h
16
N/A
Cacao tree
4-6
Raspberry jam

36
252
7 h
★★★ 5 h 57 min
29
Raspberries

 (3)

Jam Maker
1-3
Spicy pizza

37
226
15 min
★★★ 12 min
27
Cheese

 (1)
Chili pepper (1)
Tomato (1)
Wheat (2)

Bakery
2-3
Blackberry jam

37
388
8 h
★★★ 6 h 48 min
46
Blackberries

 (3)

Jam Maker
1-2
Potato feta cake

38
309
2 h
★★★ 1 h 42 min
32
Eggs

 (4)
Goat cheese (1)
Potato (1)

Cake Oven
2
Cherry jam

38
327
7 h
★★★ 5 h 57 min
39
Cherries

 (3)

Jam Maker
1-2
Bracelet

38
514
2 h
★★★ 1 h 24 min
50
Gold bar

 (1)
Silver bars (2)

Jeweler
N/A
Potato bread

39
284
45 min
★★★ 38 min
34
Butter

 (1)
Eggs (3)
Potatoes (2)
White sugar (1)

Bakery
2
Shepherd's pie

39
280
1 h 40 min
★★★ 1 h 25 min
34
Bacon
Pie Oven
2
Chocolate ice cream

39
342
2 h 30 min
★★★ 2 h 7 min
41
Cream

 (1)
Cacao (2)
Milk (1)
White sugar (1)

Ice Cream Maker
1-2
Honeycomb

39
68
Instant
8
N/A
Beehive tree
N/A
Necklace

39
727
3 h
★★★ 2 h 33 min
72
Gold bar

 (1)
Platinum bar (1)
Silver bars (2)

Jeweler
N/A
Honey

39
154
20 min
★★★ 17 min
19
Honeycombs

 (2)

Honey Extractor
N/A
Honey popcorn

40
360
1 h 30 min
★★★ 1 h 16 min
43
Corn

 (2)
Honey (2)

Popcorn Pot
3-4
Diamond ring

40
824
4 h
★★★ 3 h 24 min
84
Diamond

 (1)
Gold bars (2)
Platinum bars (2)

Jeweler
N/A
Fish and chips

41
244
1 h 30 min
★★★ 1 h 16 min
29
Fish fillets

 (2)
Potatoes (3)

BBQ Grill
2
Iron bracelet

41
658
1 h 30 min
★★★ 1 h 16 min
79
Iron bars

 (2)
Refined coals (2)
Silver bar (1)

Jeweler
N/A
Coffee bean

42
64
1 d 1 h
12
N/A
Coffee bush
4-7
Espresso

42
248
5 min
★★★ 4 min
29
Coffee beans

 (3)
White sugar (1)

Coffee Kiosk
2
Honey apple cake

42
482
3 h 20 min
★★★ 2 h 50 min
57
Apples
Cake Oven
2
Caffè latte

43
219
10 min
★★★ 8 min
26
Coffee beans

 (2)
Milk (1)
White sugar (1)

Coffee Kiosk
2
Chocolate popcorn

44
248
2 h 30 min
★★★ 2 h 7 min
29
Cacao

 (2)
Corn (2)

Popcorn Pot
2-4
Lobster tail

44
201
6 h
24
Lobster

 (1)

Lobster Pool
2-4
Lobster trap

44
0
2 h
★★★ 1 h 42 min
5
None
Net Maker
N/A
Frutti di Mare pizza

45
403
15 min
★★★ 12 min
32
Cheese

 (1)
Fish fillet (1)
Lobster tail (1)
Wheat (2)

Bakery
1-2
Caffè mocha

45
291
15 min
★★★ 12 min
35
Coffee bean
Coffee Kiosk
1-2
Raspberry mocha

46
259
30 min
★★★ 25 min
16
Cacao

 (1)
Coffee bean (1)
Cream (1)
Raspberry (1)

Coffee Kiosk
1-2
Lobster soup

46
612
2 h 30 min
★★★ 2 h 7 min
73
Chili peppers

 (2)
Cream (1)
Lobster tails (2)
Tomato (1)

Soup Kitchen
1-2
Hot chocolate

47
316
25 min
★★★ 21 min
32
Cacao

 (2)
Cream (1)
Milk (1)
White sugar (1)

Coffee Kiosk
2
Tomato soup

47
478
1 h 30 min
★★★ 1 h 16 min
57
Chili pepper

 (1)
Goat cheese (1)
Tomato juice (1)
Tomatoes (2)

Soup Kitchen
1-2
Red scarf

48
288
2 h 30 min
★★★ 2 h 7 min
34
Strawberries

 (2)
Wool (2)

Loom
1-2
Lobster skewer

48
417
40 min
★★★ 34 min
50
Chili pepper

 (1)
Honey (1)
Lobster tail (1)

BBQ Grill
2
Beeswax

48
234
45 min
★★★ 38 min
28
Honeycombs

 (3)

Honey Extractor
N/A
Strawberry candle

48
370
2 h
★★★ 1 h 42 min
44
Beeswax

 (1)
Strawberries (2)

Candle Maker
2-3
Rustic bouquet

49
208
45 min
★★★ 38 min
25
Wheat
Flower Shop
1-2
Pumpkin soup

49
392
2 h
★★★ 1 h 42 min
47
Butter
Soup Kitchen
2
Strawberry jam

50
270
7 h 30 min
★★★ 6 h 22 min
32
Strawberries

 (3)

Jam Maker
2-3
Duck feather

50
140
3 h
17
Duck

 (1)

Duck Salon
3-6
Duck trap

50
0
60 min
★★★ 51 min
3
None
Net Maker
N/A
Caramel apple

51
255
2 h
★★★ 1 h 42 min
31
Apple

 (1)
Syrup (2)

Candy Machine
N/A
Pillow

51
676
3 h
★★★ 2 h 33 min
81
Cotton fabrics

 (2)
Duck feathers (3)

Sewing Machine
1
Toffee

52
176
1 h 30 min
★★★ 1 h 16 min
21
Butter

 (1)
Wheat (1)
White sugar (1)

Candy Machine
N/A
Raspberry candle

52
360
1 h 45 min
★★★ 1 h 29 min
43
Beeswax

 (1)
Raspberries (2)

Candle Maker
2-3
Pineapple

52
14
30 min
3
Pineapple

 (1)

Field
Pineapple juice

52
68
45 min
★★★ 38 min
8
Pineapples

 (3)

Juice Press
Fish soup

53
298
3 h
★★★ 2 h 33 min
35
Carrot

 (1)
Fish fillets (2)
Milk (1)
Potatoes (3)

Soup Kitchen
1-2
Soy sauce

54
154
3 h
★★★ 2 h 33 min
19
Soybeans

 (9)
Wheat (1)

Sauce Maker
2-4
Chocolate

54
460
20 h
★★★ 17 h
55
Cacao

 (3)
Cream (1)
White sugar (1)

Candy Machine
N/A
Rice

56
18
45 min
3
Rice

 (1)

Field
19-32
Sushi roll

56
489
1 h
★★★ 51 min
58
Fish fillet
Sushi Bar
1-2
Olive

57
82
1 d
17
N/A
Olive tree
4-6
Lollipop

57
342
12 h
★★★ 10 h 12 min
41
Cherry

 (1)
Strawberries (2)
Syrup (1)

Candy Machine
N/A
Lettuce

58
32
3 h 30 min
7
Lettuce

 (1)

Field
9-14
Feta salad

58
745
1 h 30 min
★★★ 1 h 16 min
89
Goat cheese

 (2)
Lettuce (3)
Olives (2)
Roasted tomatoes (1)

Salad Bar
1
Lobster sushi

59
637
1 h
★★★ 51 min
76
Lobster tail
Sushi Bar
1
Blanket

59
1098
3 h 30 min
★★★ 2 h 58 min
131
Cotton fabric

 (3)
Duck feathers (5)
Pumpkin (1)

Sewing Machine
1
Jelly beans

60
684
24 h
★★★ 20 h 24 min
81
Blackberry jam

 (1)
Raspberry jam (1)
White sugar (1)

Candy Machine
N/A
Olive oil

60
277
45 min
★★★ 38 min
33
Olives

 (3)

Sauce Maker
1-2
Veggie bagel

61
532
40 min
★★★ 34 min
63
Bread
Sandwich Bar
1
BLT salad

62
723
1 h 45 min
★★★ 1 h 29 min
86
Bacon

 (2)
Lettuce (3)
Mayonnaise (1)
Roasted tomatoes (1)

Salad Bar
1-3
Mayonnaise

62
367
15 min
★★★ 12 min
44
Eggs

 (4)
Olive oil (1)

Sauce Maker
1-2
Caramel latte

62
345
15 min
★★★ 12 min
41
Coffee beans
Coffee Kiosk
2
Sunflower

63
21
1 h 30 min
5
Sunflower

 (1)

Field
15
Egg sushi

63
550
2 h
★★★ 1 h 42 min
66
Brown sugar
Sushi Bar
1
Seafood salad

64
763
2 h
★★★ 1 h 42 min
91
Fish fillet

 (1)
Lettuce (3)
Lobster tail (1)
Mayonnaise (1)

Salad Bar
1
Berry smoothie

64
547
1 h 15 min
★★★ 1 h 3 min
65
Blackberries

 (3)
Strawberries (3)
Raspberries (3)

Smoothie Mixer
1
Bright bouquet

65
338
20 min
★★★ 17 min
40
Sunflowers
Flower Shop
1-2
Bacon toast

65
648
1 h 40 min
★★★ 1 h 25 min
77
Bacon

 (2)
Bread (2)
Lettuce (3)
Mayonnaise (1)

Sandwich Bar
1
Pineapple cake

65
259
1 h 15 min
★★★ 1 h 3 min
31
Pineapples
Cake Oven
2
Lemon

66
93
1 d 5 h
18
N/A
Lemon tree
4-6
Olive dip

66
468
45 min
★★★ 38 min
56
Olives

 (3)
Bread (2)
Lemon (1)
Fish fillet (1)

Sauce Maker
2
Lemon curd

66
378
25 min
★★★ 21 min
45
Butter

 (1)
Eggs (2)
Lemons (2)
White sugar (1)

Sauce Maker
1-2
Egg sandwich

66
583
1 h 20 min
★★★ 1 h 8 min
69
Bread

 (2)
Eggs (2)
Lettuce (3)
Mayonnaise (1)

Sandwich Bar
1
Green smoothie

66
320
45 min
★★★ 38 min
38
Apple
Smoothie Mixer
1-2
Fresh pasta

67
43
15 min
★★★ 12 min
5
Egg

 (1)
Wheat (2)

Pasta Maker
8-12
Pasta salad

67
759
2 h 30 min
★★★ 2 h 7 min
90
Fresh pasta
Salad Bar
1
Lemon pie

67
446
2 h 15 min
★★★ 1 h 54 min
53
Egg

 (1)
Lemon curd (1)
Wheat (2)

Pie Oven
1-2
Onion

68
39
5 h
8
Onion

 (1)

Field
9
Grilled onion

68
190
1 h
★★★ 51 min
23
Butter

 (1)
Onions (2)

BBQ Grill
3
Lemon cake

68
896
2 h 30 min
★★★ 2 h 7 min
107
Cream

 (1)
Eggs (2)
Lemon curd (2)
Wheat (3)

Cake Oven
1
Tomato sauce

69
230
30 min
★★★ 25 min
27
Brown sugar
Sauce Maker
2
Honey toast

69
255
1 h
★★★ 51 min
31
Bread
Sandwich Bar
3-4
Yogurt smoothie

70
349
1 h
★★★ 51 min
42
Cherry

 (1)
Cream (1)
Raspberries (2)
White sugar (1)

Smoothie Mixer
1-2
Cloche hat

70
468
2 h
★★★ 1 h 42 min
56
Strawberries

 (2)
Wool (6)

Hat Maker
1-4
Cucumber

70
14
35 min
3
Cucumber

 (1)

Field
21
Cucumber smoothie

70
266
40 min
★★★ 34 min
32
Cucumbers

 (3)
Honey (1)
Pineapples (3)

Smoothie Mixer
Orange

71
97
1 d 7 h
19
N/A
Orange tree
4
Flower shawl

71
295
1 h 30 min
★★★ 1 h 16 min
35
Wool

 (2)
Sunflowers (3)
Blackberry (1)

Loom
2
Orange juice

71
234
2 h
★★★ 1 h 42 min
28
Oranges

 (2)

Juice Press
2-3
Onion soup

72
327
2 h 30 min
★★★ 2 h 7 min
36
Bread
Soup Kitchen
2
Lemon candle

72
457
2 h 15 min
★★★ 1 h 54 min
55
Beeswax

 (1)
Lemons (2)

Candle Maker
2
Top hat

72
619
3 h 30 min
★★★ 2 h 58 min
74
Cotton fabric

 (3)
Duck feather (1)
Refined coal (1)

Hat Maker
1-2
Gnocchi

72
475
1 h 20 min
★★★ 1 h 8 min
57
Potatoes
Pasta Kitchen
1-2
Noodle soup

73
432
2 h
★★★ 1 h 42 min
52
Carrots

 (2)
Chili peppers (1)
Eggs (2)
 Rice noodles (3)

Soup Kitchen
2
Rice noodles

73
100
20 min
★★★ 17 min
12
Rice

 (5)

Pasta Maker
4-5
74
36
4 h 30
7
Bell pepper

 (1)

Field
Marmalade

74
457
8 h 30 min
★★★ 7 h 13 min
54
Oranges

 (3)

Jam Maker
2
Sun hat

74
558
2 h 30 min
★★★ 2 h 7 min
66
Duck feathers
Hat Maker
1-2
Veggie lasagna

74
532
1 h 40 min
★★★ 1 h 25 min
63
Tomato sauce

 (1)
Fresh pasta (3)
Carrot (1)
Cheese (1)

Pasta Kitchen
1
74
266
2 h
★★★ 1 h 42 min
32
Bell peppers
Salad Bar
2
Hot dog

75
370
30 min
★★★ 25 min
44
Bacon

 (2)
Bread (1)
Tomato sauce (1)

Hot Dog Stand
1-2
Peach

76
100
1 d 6 h
20
N/A
Peach tree
4
Peach tart

76
435
2 h 30 min
★★★ 2 h 7 min
52
Cream
Pie Oven
1-2
Tofu dog

76
367
45 min
★★★ 38 min
44
Lettuce
Hot Dog Stand
1-2
Big sushi roll

76
648
1 h 30 min
★★★ 1 h 16 min
77
Lettuce

 (5)
Rice (20)
Fish fillet (1)
Eggs (3)

Sushi Bar
1
Salsa

77
252
20 min
★★★ 17 min
30
Chili peppers
Sauce Maker
2
Taco

77
396
45 min
★★★ 38 min
47
Corn bread
Taco Kitchen
2
Summer rolls

78
316
1 h
★★★ 51 min
38
Rice noodles

 (2)
Carrots (2)
Lettuce (1)
Chili pepper (1)

Salad Bar
2
Orange sorbet

78
399
3 h 30 min
★★★ 2 h 58 min
48
Honey

 (1)
Oranges (2)

Ice Cream Maker
2
Corn dog

78
529
1 h
★★★ 51 min
63
Bacon
Hot Dog Stand
1
Potato soup

78
255
2 h 30 min
★★★ 2 h 7 min
31
Milk
Soup Kitchen
2
Fish taco

79
392
1 h 30 min
★★★ 1 h 9 min
44
Chili peppers

 (2)
Corn bread (2)
Fish fillet (1)
Lemon (1)

Taco Kitchen
1-2
Peach jam

79
464
8 h
★★★ 6 h 48 min
55
Peaches

 (3)

Jam Maker
2-3
Lobster pasta

79
637
2 h
★★★ 1 h 42 min
76
Lobster tail

 (1)
Cream (2)
Fresh pasta (3)
Tomatoes (4)

Pasta Kitchen
1
Cucumber sandwich

79
464
35 min
★★★ 29 min
35
Cucumbers

 (2)
Mayonnaise (1)
Bread (2)

Sandwich Bar
Tea leaf

80
43
6 h 30 min
9
Tea leaf

 (1)

Field
8
Green tea

80
241
30 min
★★★ 25 min
29
Tea leaves

 (5)

Tea Stand
2
Onion dog

80
306
1 h 15 min
★★★ 1 h 3 min
36
Bacon

 (2)
Breads (1)
Chili peppers (1)
Onions (3)

Hot Dog Stand
2
Milk tea

81
190
45 min
★★★ 38 min
23
Milk

 (1)
Tea leaves (3)

Tea Stand
2-3
81
439
1 h
★★★ 51 min
52
Bread

 (1)
Olive oil (1)
Chili pepper (1)
Bell peppers (2)

Soup Kitchen
1-2
Peony

82
36
4 h
7
Peony

 (1)

Field
11
Quesadilla

82
241
1 h
★★★ 51 min
29
Cheese

 (1)
Chili peppers (2)
Wheat (4)

Taco Kitchen
2-3
Fruit salad

82
597
2 h
★★★ 1 h 42 min
71
Blackberries

 (2)
Honey (1)
Orange (1)
Strawberries (3)

Salad Bar
1
Pasta carbonara

83
410
2 h 30 min
★★★ 2 h 7 min
49
Fresh pasta
Pasta Kitchen
1
Peach ice cream

83
450
3 h
★★★ 2 h 33 min
54
Cream
Ice Cream Maker
2
Honey tea

83
313
40 min
★★★ 34 min
37
Honey

 (1)
Tea leaves (3)

Tea Stand
2-3
Broccoli

83
21
1 h 30 min
4
Broccoli

 (1)

Field
18
Broccoli pasta

83
345
1 h
★★★ 51 min
41
Broccoli

 (3)
Cheese (1)
Fresh pasta (3)

Pasta Kitchen
Summer salad

84
554
3 h
★★★ 2 h 33 min
66
Goat cheese
Salad Bar
1
Grapes

84
32
3 h
6
N/A
Field
12-13
Grape juice

84
104
2 h 30 min
★★★ 2 h 7 min
13
Grapes

 (2)

Juice Press
2-6
Onion melt

84
471
1 h 30 min
★★★ 1 h 16 min
50
Corn bread
Sandwich Bar
2
85
32
3 h
6
Mint

 (1)

Field
12-15
Grape jam

85
162
6 h 30 min
★★★ 5 h 31 min
19
Grapes

 (3)

Jam Maker
4
85
288
2 h 15 min
★★★ 1 h 54 min
34
Cream

 (1)
White sugar (1)
Mint (2)
Cacao (1)

Ice Cream Maker
2
Flower crown

86
331
2 h
★★★ 1 h 42 min
40
Peonies

 (5)
Cotton (4)

Hat Maker
1-2
Lemon tea

86
241
20 min
★★★ 17 min
29
Lemon

 (1)
Tea leaves (3)

Tea Stand
2
Nachos

87
432
1 h 15 min
★★★ 1 h 3 min
52
Cheese
Taco Kitchen
2-3
Spicy pasta

87
576
1 h 30 min
★★★ 1 h 16 min
69
Fresh pasta

 (3)
Tomato sauce (1)
Chili peppers (3)
Onions (2)

Pasta Kitchen
1
Broccoli soup

87
237
1 h 15 min
★★★ 1 h 16 min
28
Broccoli
Soup Kitchen
Mixed smoothie

88
504
30 min
★★★ 25 min
60
Lemon
Smoothie Mixer
1
Banana

88
104
27 h
20
N/A
Banana tree
4
Iced banana latte

88
277
20 min
★★★ 17 min
33
Banana

 (1)
Coffee beans (2)
Milk (1)

Coffee Kiosk
2
Orange tea

89
255
40 min
★★★ 34 min
30
Orange

 (1)
Tea leaves (3)

Tea Stand
2
Fruit cake

89
450
3 h
★★★ 2 h 33 min
54
Cherriess
Cake Oven
2
Candy bouquet

90
554
20 min
★★★ 17 min
66
Peonies

 (3)
Toffee (1)
Caramel apple (1)

Flower Shop
2
Eggplant

90
14
40 min
3
Eggplant

 (1)

Field
Grilled eggplant

90
324
40 min
★★★ 34 min
39
Eggplants

 (3)
Salsa (1)

BBQ Grill
Banana bread

91
424
30 min
★★★ 25 min
50
Bananas
Bakery
2
92
39
5 h
8
Watermelon

 (1)

Field
9
Iced tea

92
252
30 min
★★★ 25 min
30
Peach

 (1)
Tea leaves (3)

Tea Stand
2
Goat cheese toast

92
302
50 min
★★★ 42 min
36
Bread

 (1)
Goat cheese (1)
Grapes (3)

Sandwich Bar
2
92
108
1 h
★★★ 51 min
13
Watermelons

 (2)

Juice Press
4-5
Soft bouquet

93
298
30 min
★★★ 25 min
36
Peonies

 (4)
Cotton (1)
Cotton fabric (1)

Flower Shop
1-2
94
82
1 d
16
N/A
Plum tree
Banana pancakes

94
352
1 h
★★★ 51 min
42
Banana

 (1)
Blackberries (2)
Cream (1)
Wheat (3)

BBQ Grill
2
94
385
5 h
★★★ 4 h 15 min
46
Plums

 (3)

Jam Maker
2
Floral candle

95
442
2 h
★★★ 1 h 42 min
53
Beeswax

 (1)
Peonies (2)
Sunflowers (2)
Indigo (3)

Candle Maker
2
Banana split

96
403
3 h 30 min
★★★ 2 h 58 min
48
Banana
Ice Cream Maker
2
97
255
35 min
★★★ 29 min
31
Tea leaves

 (3)
Mint (1)
Watermelon (1)

Tea Stand
2
Flower pendant

98
698
1 h
★★★ 51 min
83
Peonies

 (3)
Platinum bar (1)
Gold bar (2)

Jeweler
N/A
Eggplant parmesan

99
442
45 min
★★★ 38 min
53
Eggplants

 (3)
Cheese (1)
Tomato sauce (1)

Pie Oven
Cocoa smoothie

100
511
40 min
★★★ 34 min
61
Banana
Smoothie Mixer
1
102
522
35 min
★★★ 29 min
62
Plums
Smoothie Mixer
1