| | |
| --- | --- |
| | This page is missing some images. You can help the Hay Day Wiki by uploading missing pictures. |
Note: this page is about experience levels, not to be confused with reputation levels.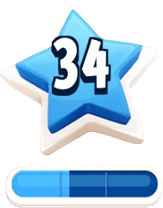 Experience levels are levels obtained in the player's game. See experience for more details.
After level 110, no new items are given besides diamonds and fields.
---
Table of levels
The following is a table of 'level-up' pictures, rewards given or unlocked, and experience points needed for the first 225 levels that can be achieved in Hay Day.
Notes:
The new icon (

New

) denotes items that are not shown in the pictures as they have been added after the shots were taken.
The star icon(★) denotes unlocked items or features that Hay Day does not show in level-up images.
Levels 1-25, Levels 26-50, Levels 51-75, Levels 76-100, Levels 101-125, Levels 126-150, Levels 151-175, Levels 176-200, Levels 201-225
---