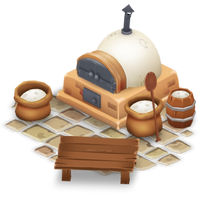 The Bakery is a production building unlocked at experience level 2. It is the first production building players unlock in the game.
It is used to make bread, cookies, muffins and pizza
---
Appearance
The Bakery is a large, ginger oven with few sacks of flour beside it and a small wooden table in front of it. The floor is tiled. It matches the look of the Popcorn Pot, the Cake Oven and the Pie Oven.
The mastered version gets copper-colored parts and a golden star on the side.
---
Building
It costs 20 coin

and takes 10 seconds to build the Bakery. It gives players 3 xp

when completed.
---
Products
---
Upgrading
Main article: Production Buildings
The Bakery originally has two slots available. Unlocking the third slot costs 6 diamonds. Players can unlock 7 new slots in total, each new one costing 3 more dia

than the previous one. Alternatively, they can spend a total of 105 dia

to completely upgrade their machine.
---
Mastering
A total of 735 hours of production is required to master the Bakery:
★
35 hrs
★★
140 hrs
★★★
560 hrs
+10%

coin

+10%

xp

15% faster
---
Strategy tips
All products sell well at max. price.
Bread and corn bread are the ingredients of many other products in the game so make sure you always keep a good stock of these.
Community content is available under
CC-BY-SA
unless otherwise noted.